Designers have seen a wave of blue kitchen islands making a splash across New England, and the trend is here to stay, according to Julie Lyons, senior residential designer at Roomscapes Cabinetry and Design Center in Rockland, Massachusetts. Lyons says that blue islands have been trending for about three years. "People are starting to move away from greys and more conservative colors," she says. Designers are seeing the trend in both traditional and contemporary kitchen designs, using a broad spectrum of blues against the backdrop of a mostly white kitchen.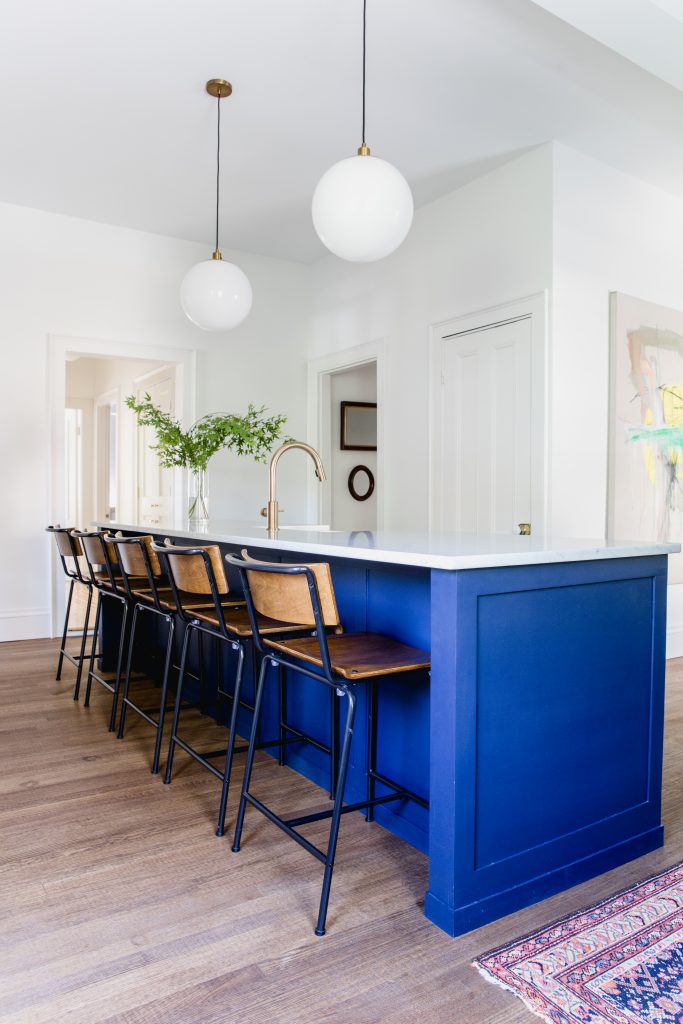 "While the color navy is not so much a trend, it is a trend to include it in a kitchen island," says Lyons. "When you think of a stark white kitchen, a bold color like navy in an island is very contemporary." Lyons says that traditional blues are the softer, more muted tones such as Benjamin Moore's Buxton Blue, Whipple Blue or Yarmouth Blue. "Those are part the Historical Collection, colors taken right out of homes in Williamsburg," says Lyons. Contemporary colors are the bold saturated blues, including Blue Lapis and Starry Night Blue.
Lyons, who studied interior design at Boston Architectural College, says when choosing kitchen colors, it's important to decide on the countertop first. "Once you've made that decision, you can coordinate." For example, Azul Aran is an Italian granite that has blues and browns in it, according to Lyons. "You can pull the shade of blue from the granite," she says. She adds that the other element to take into consideration is the floor, and that lighter floors such as white oak work well with colored islands.
When it comes to blue kitchen islands, Lyons says there's no norm. "It really comes down to personal taste. That's the fun of it," she says. —Marina Davalos