It takes vision to look at a dilapidated home and see beyond several ill-conceived renovations, and decades of neglect, and imagine the possibilities of what might be. Such was the foresight of the Gates family when Tomas Gates found what is now one of Mystic's premier hotels.
"We were visiting Sweden, where my mother is from, for my parents' anniversary and I found it online," says Tomas of the 1853-built home, adding, "I fell in love with it right away. My mom was hesitant."
When one considers that when Tomas, his brother and his parents purchased the property in 2013, there were trees growing into the building, perhaps his mother's recalcitrance wasn't entirely unfounded.
Immediately after purchasing the property, restorations began. In looking at photos of the Spicer Mansion, an eight-room boutique hotel that opened in 2016, it is clear that term renovation would be inappropriate. Original parquet floors remain as do hand-painted wall murals, hand-carved fireplace surrounds, built-in bookcases, crown mouldings and the elaborate trim work surrounding oversized windows.
The transformation would take more than two years, longer than the family anticipated because of unexpected issues which can arise when restoring a historic building.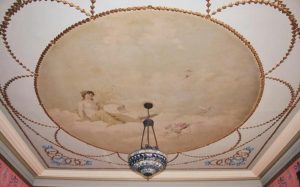 Siting one such example, Tomas explains, "During renovations we uncovered ceilings that were all plaster, all decorative. We had those restored."
Guests of the riverfront Spicer Mansion, which is surrounded by meticulously-landscaped grounds, enjoy unrivaled luxury and attentive service, as we did when staying at the hotel while filming the Mystic episode of New England Living TV.
In addition to sumptuous accommodations and opulent common rooms, thoughtful touches include the use of two BMW 750i sedans, one of which is for guests' personal use, while the other is reserved for chauffeur-driven trips to and from the train station, and in and around Mystic.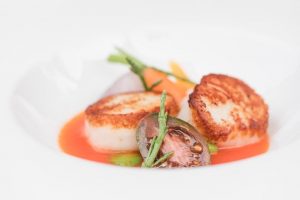 An expansive culinary program further reinforces the overall feeling of indulgence. The newly-opened Speakeasy, in the mansion's cellar, is proving popular with guests as do the six-course tasting menu offered in The Restaurant and private dining options in The Belvedere, which is situated in the tower of the mansion where diners are treated to 360-degree views of the town and river.
While the Spicer Mansion has been open for just one year, it has already garnered a four-rating from Forbes. Based on our experience at the hotel, earning the coveted fifth star is only a matter of time.