By Rebecca Mayer Knutsen
When it comes to the lifestyle of today's busy families, one-refrigerator kitchens are a thing of the past.
In today's kitchens, grabbing a friend a cold drink from the fridge is not as straightforward as it may sound. Do you go to the main side-by-side unit camouflaged by a customized panel front? A refrigerated drawer built into the island that holds juice and soda? A similar drawer in the butler's pantry that holds just beer?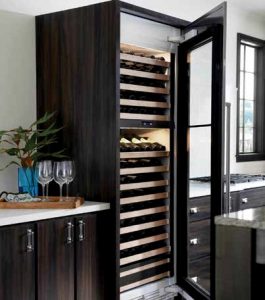 Historically, the refrigerator has gotten more play than any other kitchen appliance, with the door repeatedly swinging open and shut at every meal and countless times throughout the day to dole out snacks, cocktails and midnight munchies. Today more and more, homeowners are encouraged to consider the particular demands of the home's occupants and guests, and choose appliances that best suit their lifestyle. Modern refrigeration is a perfect example of how picking and choosing among an increasingly broad spectrum of options results in a very personalized space, the perfect blend of aesthetics and functionality.
So, when the time comes to select new refrigeration, where does one begin? Consulting a designer is always a good idea, but before that homeowners remodeling a kitchen or building a new home are encouraged to get the advice of friends and family, visit an appliance showroom and brainstorm must-haves.
Zero in on Lifestyle Needs
"Refrigeration is the cornerstone of the kitchen," shares Rosemary Porto, sales manager and senior designer at  Poggenpohl Boston. "It directs how a kitchen is laid out so it's helpful when clients arrive with an idea of what they want and how they plan to use it."
Porto suggests homeowners envision a typical day at home to determine the most important individual needs: Do you cook most meals at home? Who is responsible for cooking? Do you entertain? What food items are regularly stocked in the refrigerator? Do children need to be able to reach refrigerated items?
Claudette Andrew, interior designer at Westborough Design Center in Westborough, Massachusetts, agrees that lifestyle drives the appliance selection process. "The refrigerator is an essential item, but what product is needed varies by client," she adds.
With so many custom features available in Sub-Zero appliances, homeowners can check each item off their refrigeration wish lists without sacrificing function. The wide variety of options can be customized to suit any kitchen's style whether it's traditional, retro, contemporary or somewhere in between.
Options for Every Style & Space
A kitchen's design and flow relies on the commingling of various elements including countertops, storage and appliance space. "Refrigerators, cooktops and ovens each have specific roles as appliances, and to work well, they need to go in the most appropriate location," Andrew explains.
The overall goal is to produce a cohesive, functional and aesthetically pleasing kitchen, but that's not as easy as it sounds. Once homeowners have a clear idea of their needs, consulting a professional to assess the space and design the most efficient layout is the next step. An interior designer can provide feedback based on lifestyle, needs and the space available to determine which Sub-Zero product is the best fit.
"In the end, where and what appliances are included in a kitchen design comes down to the space available," Andrew explains. A homeowner who cooks often, for example, will need enough refrigeration to house fresh ingredients, conveniently located in the heart of the kitchen.
For a formal, classic presentation, integrated units with a wood panel overlay and no visible hinges or grilles blends refrigeration seamlessly with surrounding cabinetry. Other homeowners may prefer refrigeration as a focal point, which can be achieved with a sleek stainless steel design. Either way, today's Sub-Zero refrigerator and freezer options have elevated kitchen outfitting to a new level.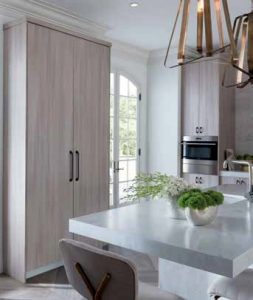 The elegance of Sub-Zero units is matched by their flexible and customizable options to suit virtually any kitchen. A home with vast space may splurge on a 48-inch side-by-side unit, whereas a cottage may require mixing columns and drawers to satisfy the refrigeration needs. Others may choose to group a bunch of elements together, or relegate the sporadically used freezer to the pantry to save on space in the main kitchen.
Thinking Outside the Box
The new generation of Sub-Zero products offers consumers design flexibility without sacrificing the quality standards   on which the 72-year-old company was built. The internal water dispenser, one of the newest features to be unveiled, fulfills an unmet need in the market. According to Porto, no other 36-inch refrigerator in the luxury market currently offers this highly regarded feature.
Other coveted Sub-Zero attributes include high-powered air filtration systems, dual refrigeration systems, and shelves with nanotechnology to stop spills in their tracks. Refrigerator drawers conveniently stock children's items like juice boxes within easy reach of tiny hands. The drawers can also be installed to increase the kitchen's refrigeration footprint or in place of full-sized units for space-challenged areas.
In addition to Sub-Zero's full line of wine storage solutions, refrigerator drawers are increasingly being installed as versatile beverage stations throughout kitchens. From housing milk below a coffee bar to providing convenient access to alcoholic beverages, the options are endless. One caveat, according to Andrew, is setting additional cooling configurations away from main food preparation areas so they enhance rather than disrupt the kitchen's flow.
MEET DESIGNER
Q: WHERE DO YOU FIND DESIGN INSPIRATION?
A: My clients inspire me. Their accomplishments. Their unique viewpoints of the world. I soak it all in   and try to create something spectacular that speaks to their needs, their lives. Modern European   architecture and furniture inspire my kitchen designs. As an interior designer I look at kitchens as just another room that needs furniture. Of course the need for appliances adds sport to the game.
Q: HOW DO YOU APPROACH THE DESIGN PROCESS?
A: I ask my clients about their lives, how they cook, how they live. There's always a little something that is special that comes through. Maybe a trip they took, or a particular piece they treasure. I start to weave the idea of their kitchen around that special moment so the room is a reflection of their lives.
Q: WHAT IS THE GREATEST VALUE YOU PROVIDE YOUR CLIENT?
A: I am a very good listener and therefore I have been successful at fulfilling my client's vision for their new kitchen. After the kitchen is completed and they tell me "You heard me," I am truly rewarded.
Q: WHAT ARE SOME OF THE CURRENT DESIGN TRENDS?
A: Contemporary designs are really taking off across the country. Of course this is exactly what I have been doing for the last 14 years since I joined Poggenpohl. We have a special way of mixing finishes that warms up the modern look. We also understand what it really means to design in this style. Going minimal is not easily done.
Q: WHERE DO YOU SEE KITCHEN DESIGN GOING IN THE NEXT 5 YEARS?
A: To accommodate the housing trend of building smaller more efficient housing, as an industry we must create the most functional kitchen designs in smaller floor plans. Throughout Europe this has been a way of life. That is the reason companies like Poggenpohl have the edge on the American market when it comes to understanding how to make the most functional kitchen smaller. Baby Boomers are moving from their suburban homes into city condos and apartments. There will be a growing need for smaller footprint, super-efficient kitchens over the next 5 years.