How Ryan Fletcher builds stunning homes with military precision.
Written by Robert Cocuzzo
Marines are known for their strength, valor, leadership, discipline and courage under fire. While these superlatives might flash across the screen of a recruiting commercial, a trait that gets less attention is a Marine's superhuman ability to manage complex logistics and execute plans where lives literally weigh in the balance. As a former squad leader, Marine Corps Sergeant Ryan Fletcher has applied this military precision in creating one of the most elite building firms in New England. "Being in the military teaches you many things," says Fletcher, who still sports the same high-and-tight haircut from his days at Camp Lejeune. "When someone tells you to do something, you do it to the best of your ability—and you do not stop till it's exactly that."
Though his tenure in the military shaped his approach to business, Fletcher's building prowess came from the ground up. He started banging nails at the age of twelve while working for a packaging company that built custom wooden crates to ship expensive valuables. From fifteen to sixteen, he went from laying concrete as a mason to hammering shingles as a roofer. By seventeen he was installing septic systems, followed by a summer employed by Skanska, one of the leading development firms in the country. In college, Fletcher worked as a mechanic while earning a bachelor's degree in construction management. Add his military experience to the mix and Fletcher seems like the kind of guy who could build a three-bedroom home with scraps and a handful of nails.
Fletcher's projects are nothing short of awe-inspiring. Whether in Fairfield County, the Hamptons or Westchester County, his firm's custom homes are grand in size and scale. From an elegant farmhouse, to a classical colonial with dramatic vaulted ceilings, to a restored Victorian that just exudes New England charm, Fletcher's portfolio runs the gamut. "Each project is so different—there is no core element that they all share," he explains. "But our core element is always for the users' experience. Every user has their own program that we need to follow and be disciplined to achieve. This can be from layout, to maintenance, to energy efficiency." Fletcher and his team strive to meet these objectives while optimizing means, methods and budgets.
"Our clientele is typically middle-aged and very successful," he says. "We tend to attract a youthful group of people that like to have fun with the project and know that we can work with them on all the design decisions. They know that we are a value builder and we will always strive for perfection in any and all projects, no matter the scope of the budget."
One project that exemplifies Fletcher's pursuit of perfection is a development located forty-five miles from New York City in Darien, Connecticut, called the Collection at Walker's Hill. Set on seven acres, four modern farmhouses offer a retreat just minutes away from all of the amenities of downtown Darien. Fletcher teamed up with Christopher Pagliaro of Christopher Pagliaro Architects to create farmhouses that fuse "modern refinement with classical lines." Maibec white cedar shingles meet sweeping floor-to-ceiling windows that define the façade and allow for natural light to pour inside, highlighting the custom-milled white oak flooring.
The four farmhouses in the development all have a slightly different design, but the entrance for each is defined by a dramatic two-story foyer with a walking bridge overhead. Entering the home, you can either walk straight ahead through French doors that open to a covered patio and pool or take a right into the main living area where the dining room is flanked with a floating "wine wall." Past the dining room is the gourmet kitchen with a custom-designed island boasting waterfall marble slab countertops. The kitchen is equipped with top-of-the-line Wolf/Sub-Zero appliances from Clarke, which Fletcher has enlisted for many of his projects.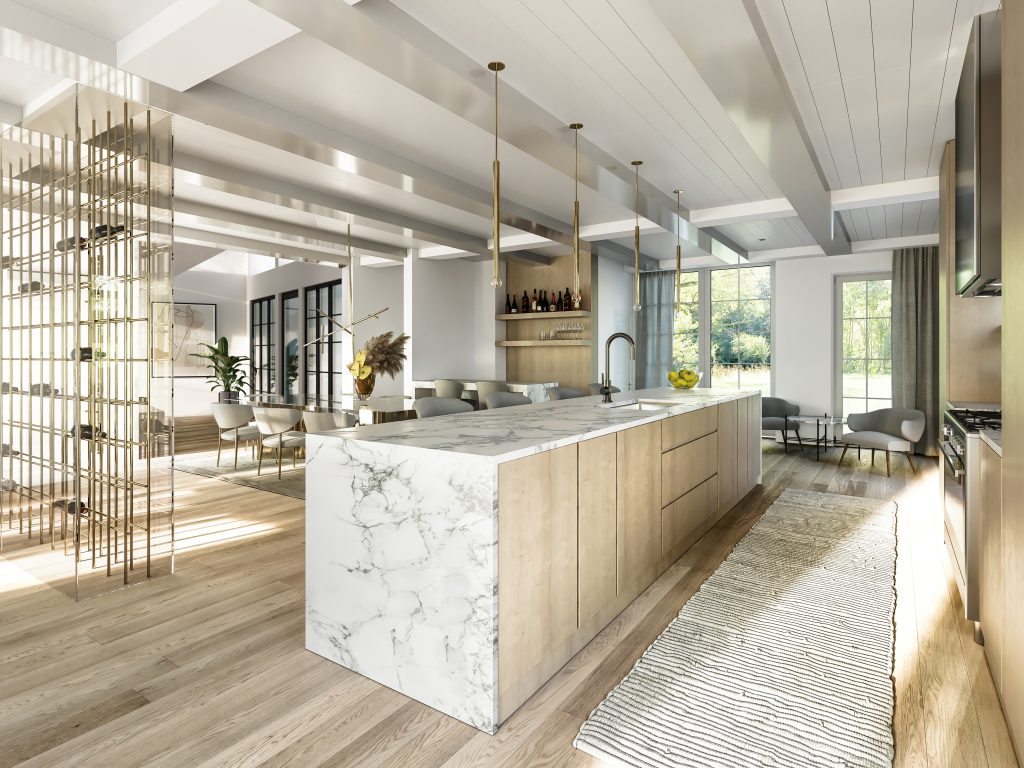 "Clarke allows us to send our clients to a full user experience to understand what the new world has to offer in terms of kitchen appliances," Fletcher says. "Not only the products, but space planning, what they need and don't need, as well as pricing. Many of our clients come from small New York City apartments and have never even seen many of the critical appliances that today's market has to offer, so explaining and teaching this to them is critical to having better design and their dream kitchen."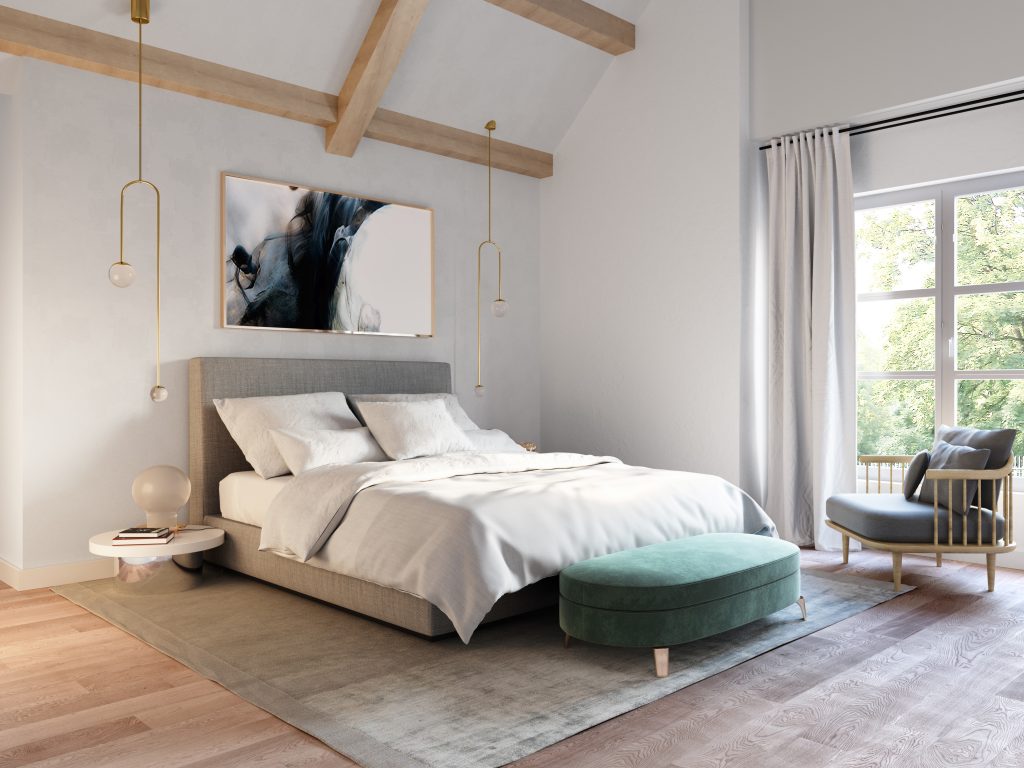 On the second floor, walking bridges with glass railings connect to two bedrooms on either wing of the farmhouse. A private entrance leads to the master suite with its cathedral ceilings and trusses, an expansive walk-in closet with skylights and a private balcony overlooking the exquisite landscape designed by Wesley Stout Associates. Along with three other en suite bathrooms, the master bathroom has a hulking floor-to-ceiling slab shower as well as a freestanding bathtub. The second floor is also equipped with a playroom, laundry room and deck overlooking the pool.
The third floor reveals a bonus loft space that can be utilized as additional bedrooms, offices or sitting areas, each with access to private balconies. Back on the ground floor, there's a multi-car garage below, which offers more bonus space with a large finished basement that runs the footprint of the home with ten-foot ceilings perfect for a golf simulator, home gym, wine cellar and rec room. In keeping with all of his projects, the Collection at Walker's Hill is executed with an exhaustive attention to detail and level of craftsmanship that only a former Marine can achieve.
"Perception is reality, and that's the minute details that can easily be skipped over in construction," Fletcher says. "As a Marine—whose job it is to get in the trenches—we still show up to every training session, no matter the climate or the environment, with a clean-shaved face, fresh haircut and a fresh-ironed set of camies. Our bags are packed tight and neat, and our rifles don't have a spec of dust, dirt or carbon on them." He continues, "As a Marine, you do everything to the best of your ability, and if you do it wrong—rip it down and do it again."